Description
The Hotronic Power Plus FootWarmer S4 Custom Kit installs in your existing ski boots or footwear and keeps your feet warm in even the coldest temperatures.  It offers up to a combined 30% increase in higher average temperatures and longer durations on a single full charge than previous Hotronic foot warmer systems. This durable system maintains up to 55% of a full charge and 95% of the initial capacity after four years of non-use!
Provides power when needed most, in the cold! Installs in all types of footwear. Transferable from one pair of footwear to another. Use while skiing, snowboarding, hunting, fishing, ice skating, bicycling, horseback riding, and during other cold-temperature activities.
The Hotronic S4 Custom Footwarmer system includes:
2 Battery Packs
1 Recharger
2 Heating Elements
2 Self-Adhesive Cambrelle Covers & Strips
Operating Instructions & Limited Warranty Card
For installation in Hotronic Heat Ready Insoles or on custom insoles, orthotics, or insoles of one's own choice.
Hotronic S4 Battery Packs offer three (3) base level settings for comfort and warmth maintenance. Additionally, they provide a fourth timed setting for an extra blast of heat. Powered by high capacity, cold temperature operation, NiMH AA cells. NiMH cells do NOT have a memory effect and do not require fully discharging before fully recharging.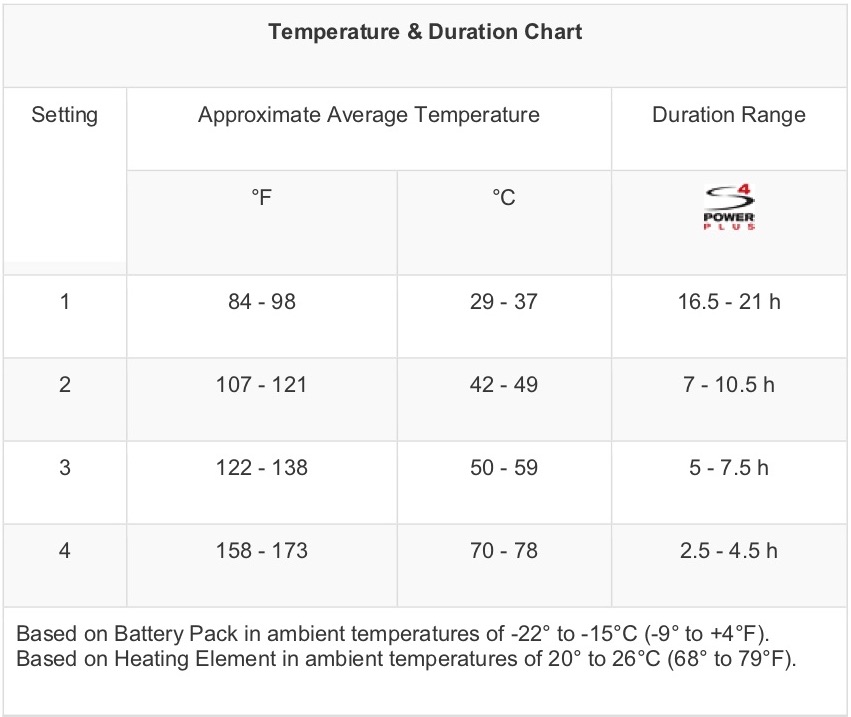 The Hotronic Power Plus Recharger that is included is S/E/M series compatible (so it is compatible with all previous series battery packs as well). It provides advanced charging technology and senses when one or more batteries inside each Pack are fully charged and protects them from overcharging damage by switching to trickle current recharging. It has a global input range of 100V to 240V and meets full standards and approval from US and Canadian ETL as well as European CE. Recharger LEDs indicate recharging mode and charge status.
The included Hotronic Heating Elements easily install in Hotronic One Size Fits All Heat Ready Insoles, Semi Custom Heat Ready Insoles, on insoles of one's own choice, or come pre-installed in Hotronic BD Anatomic Insoles. Easily install on surface of insoles with self-adhesive layer on the bottom of the heating elements. They have a large oval shape to provide effective anatomical coverage of toes. The flexible stress relief on the plug facilitates plugging into and unplugging from the battery pack and remains flexible down to subzero (°F) temperatures.