Description
Comfortable Heat Socks with large heated areas, intelligent heat level control, and gentle compression. The BootDoc Heat Socks Set consists of a pair of BootDoc Power Fit Socks with integrated heating elements that surround your foot and powerful lithium-ion battery packs with a charger.
The BOOTDOC Surround Heat Socks have a large integrated heating element and an anatomic design in the toe area. When developing these socks, particular attention was paid to the heat distribution in the big toe area. The Surround Heat Technology means that the toes are pleasantly warmed on both the top and bottom of the foot. The yarns used for the socks have extremely fine fibers, which ensures an optimal foot climate. They are also breathable and regulate moisture. Particular care was paid to the fi t and ensuring the highest possible level of comfort for the consumer. Compression and a wrinkle-free fit, as well as intelligent cable placement, means pressure points are avoided.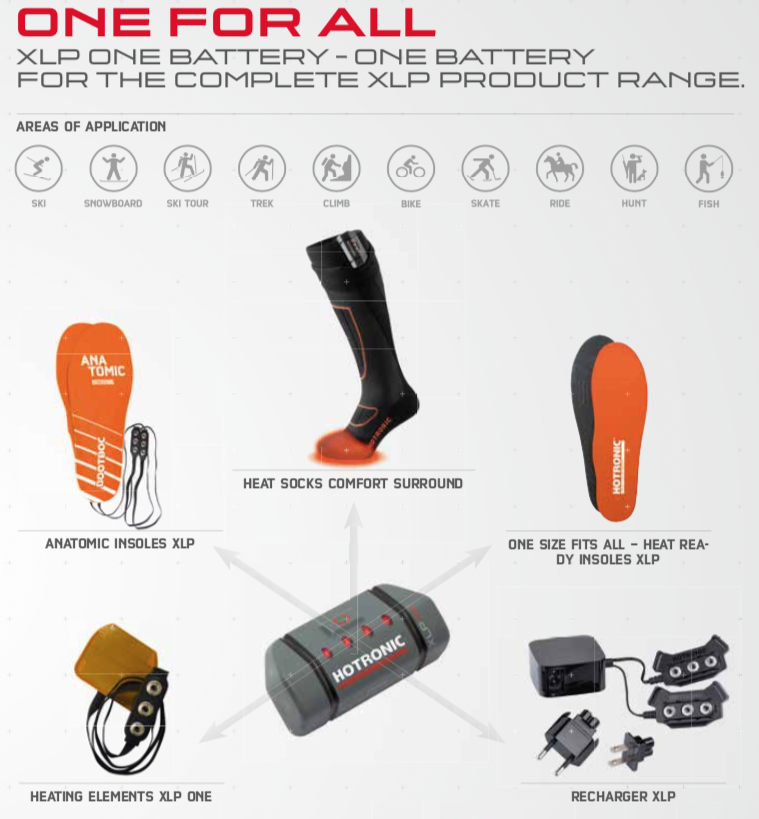 The charger has plugs for both US and EU use. The battery packs are easy to connect with the snap fasteners on the inner cuff of the heated socks. The 4 heating levels are selected directly on the battery pack. The Power Boost setting provides extra warmth for a short period (approx. 3 minutes). Battery power varies based on temperatures and settings used. You can expect to get 2 – 8 hours out of a charge. The lower the outside temperature and higher the setting you use, the shorter the charge will last. Most people will use setting 2 on a regular basis in ski boots. Setting 2 will generally last "all day" (4 – 6 hours) depending on the temperature outside.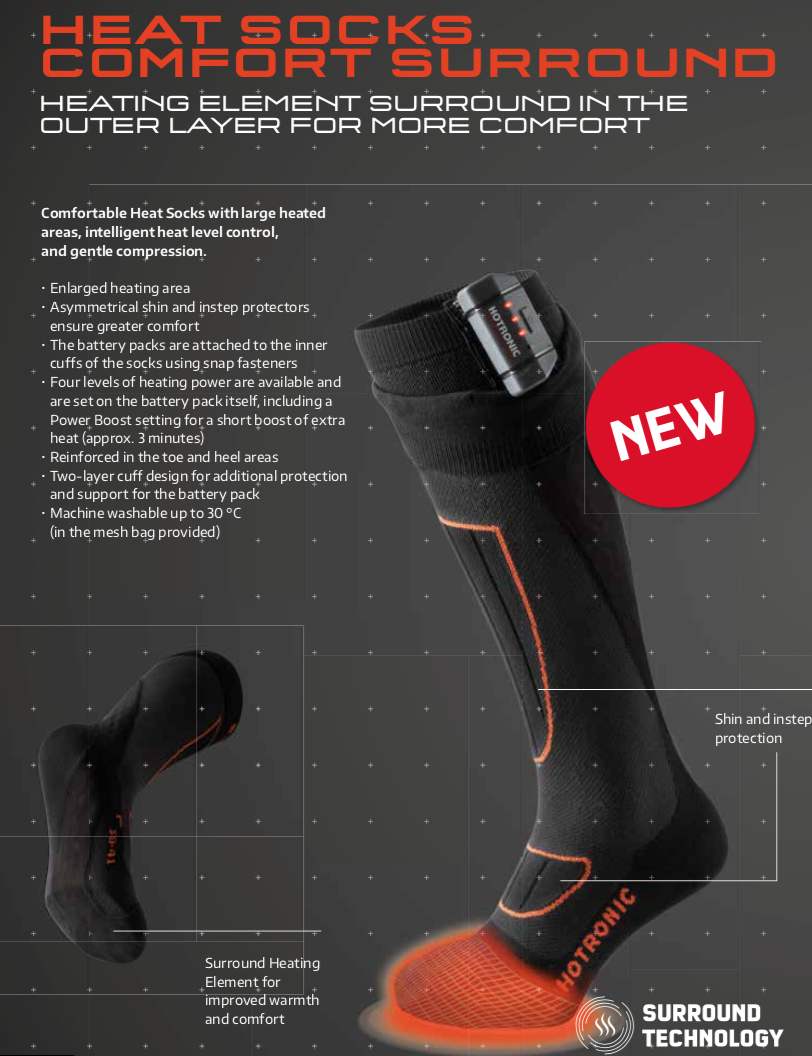 These heated socks are thinner than some of the others on the market and offer a "true ski sock fit". The nylon/spandex blend is durable and holds it's shape well for years of use. They offer soft compression of PFI 50 for the ultimate in performance and warmth – even in a plug race boot! All this being said, an even thinner pair of XLP One socks is available for purchase separately. Make sure to fully charge your batteries according to the direction before first use.
To wash, remove the batteries, turn the socks inside out, put them in the mesh bag provided, throw them in the washer (max water temp 30°C/86°F)! Lay flat to dry.
Features:
Heating element that surrounds the toe and ball of foot area
Enlarged heating area
Reinforced toe and heel area
Asymmetrical shin and instep protectors ensure greater comfort
Heating element in the outer layer for more comfort
2-layer cuff design for additional protection and to hold the battery snugly
Material: 80 % nylon, 20 % spandex
Machine washable at temperatures up to 30 °C